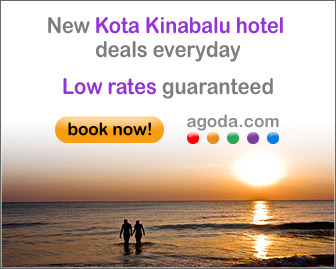 Sea Walking means literally walking under the sea.
Sometimes it is also called 'Sea Trek' or 'Sea Walker'. The word is a combination of the words Sea & Star trek, which came from the helmet's resemblance with the one in space suits. Similarly, the words 'Sea Walker' came from the sea walking motion being similar to the walking motion on the moon.
It is a new kind of sea sport which allows people from age 7 to adults in 50s – 60s to simply experience under water without any fear or complicated scuba diving skill as necessary to dive in Sipadan. Only with about 35kg helmet, you get to walk under sea for about 30 – 45 minutes, experiencing the beautiful Southern sea while actually touching marine plants, corals, starfishes, and feeding tropical fishes. After about 5 minutes of instruction session, you will move to the Pontoon, you will go under the sea by a ladder along with a licensed diver and an instructor for a safe and comfortable sightseeing under the sea.
What's the attraction?
It is a family sport which anyone from age 7 to 80 is eligible and up to six people can dive together at the same time.
It is a convenient sea sport which anyone who is afraid of water and even ladies with makeup can participate because absolutely no water can go inside the helmet.
Anyone who cannot swim at all, or is afraid of snorkeling and diving has no problem walking under the sea. In fact, many who have tried sea walking overcome the fear of water and move on to more skillful diving.
It is natural educational experience to many students where they can experience the mysterious underwater and various underwater living creatures.
Unlike sea walking in other regions, we in Kota Kinabalu does not only feed the fishes. Although it is little inconvenient due to natural corals in front of your eyes, touch various living creatures underwater, and even take a picture with tropical fishes. It'll be the time of your life.
What will I experience?
1-Walking underwater
You will walk underwater for about 20 – 30 minutes. Your body won't float nor tumble. You do not need to swim nor breathe in special way. Just breathe as you do on the ground, but only try to walk slowly. EVERYBODY EASY, COZY AND SAFETY!
2-Feeding the fishes
While holding a small piece of bread in your hand and letting it go little by little, tropical fishes will start gathering around you. If you're expecting about ten or less, it's a big mistake! Countless tropical fishes will surround you and fill your sight. (Note: the tropical fishes will become more friendly to those who are hairy)
3-Experiencing the living creatures underwater
Taking a picture with starfish
Playing football with pumpkin starfish
Making a big lip with coral
Putting on turban shell
A show with giant crab
A dancing show with a feather star
Shooting a noodle commercial with sea anemone
Searching for friends from the movie, 'Finding Nemo'
RM290.00
*For Malaysian RM270
Additional charges
a. BBQ lunch at Sapi Island – RM 75.00 per person
b. Water sport activities:-
~ Jet Ski – RM 190.00 per person. (30 minutes)
~ Parasailing – RM 220.00 per person (15 minutes)
~ Fly Fish – RM 95.00 per person (15 minutes)
~ Banana Boat – RM 60.00 per person (15 minutes)